Homes for Sale Fort Myers FL + Homes for Sale Naples FL & Sold Report for February 2021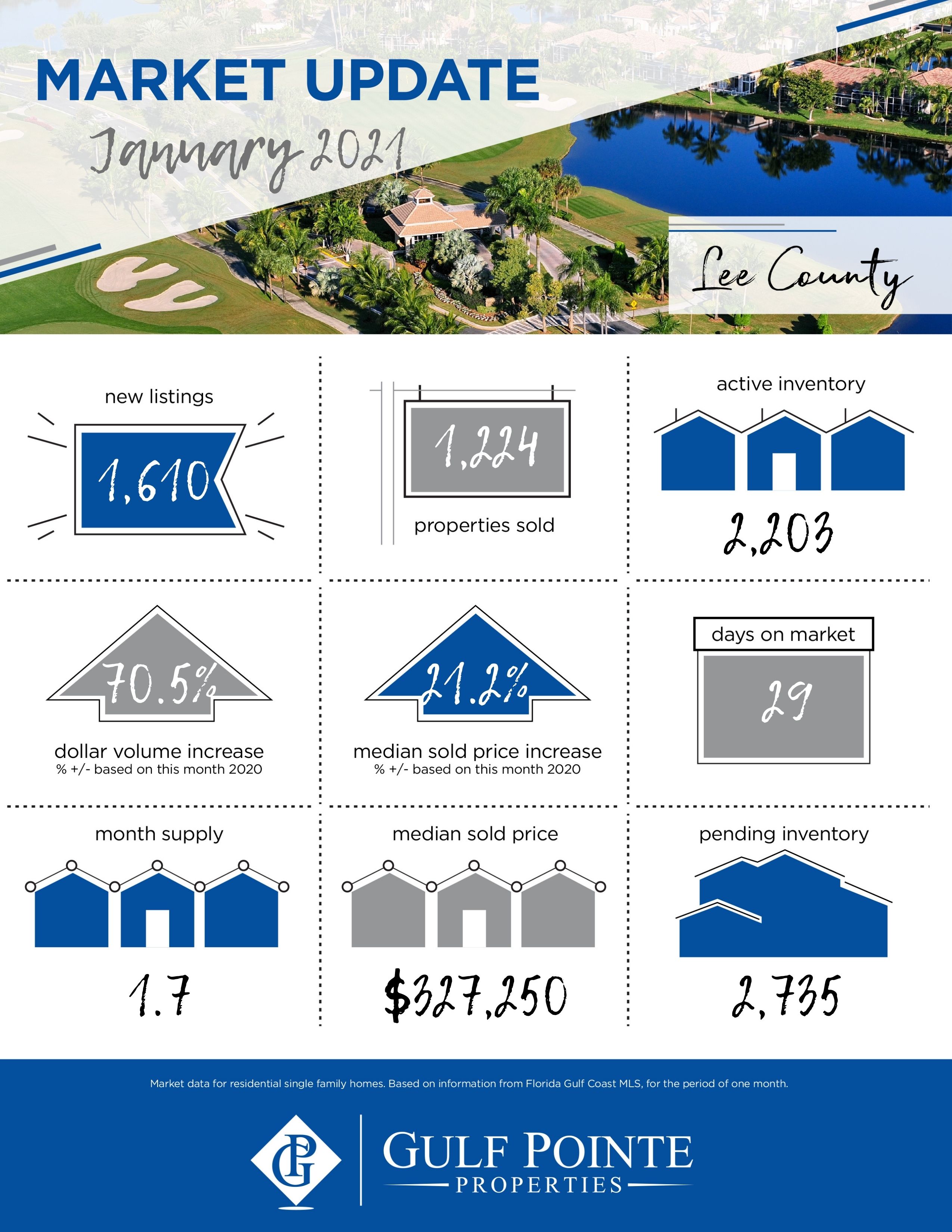 Housing Market Soars in 2020 Despite the Pandemic
Naples, Fla. (February 9, 2021) – Like many industries, the Naples area real estate market was tested in 2020 when the COVID-19 pandemic hit and shuttered businesses in every community. Fortunately, real estate professionals obtained essential-service designation from the state. The effects of the pandemic negatively impacted the housing market during March and April, two months that historically have been the best months for home sales during the year. As lockdown restrictions began to loosen, pent up demand for homes in Naples resulted in more homes sales during the second half of the year than during the first six months, a phenomenon broker analysts admit has never occurred in the history of Naples real estate.
"Because of the lockdowns up north, our market experienced a 38 and 54 percent drop in pending sales during March and April [respectively]," reported Mike Hughes, Vice President of Downing-Frye, Realty, Inc., and a panelist at the Naples Area Board of REALTORS®' 2020 Year-End Market Conference on February 2, 2021. Hughes shared the virtual stage with Budge Huskey, CEO, Premier Sotheby's International Realty; Adam Ruud, Broker, Domain Realty; and Jeff Jones, Broker at Keller Williams Naples.
"It wasn't until May that I realized 'the sky isn't falling'," said Hughes. "REALTORS® adapted quickly and became better at marketing using FaceTime, virtual tours and other creative ways to show properties. It paid off because according to the annual report, pending sales in Naples had an incredible run from July to December, with an average of 1,400 pending sales during each of those months."
Hughes pointed out that there were 7,104 pending sales from January through June, but 9,150 from July through December. "I've never seen this type of improved activity in the second half of a year. We were certainly in unchartered waters in 2020."
Pending sales for 2020 increased 28.8 percent to 16,254 pending sales from 12,623 pending sales in 2019. "These …
Below are highlight properties for Homes for Sale Fort Myers FL + Homes for Sale Naples FL & Sold Report for February 2021. See more at the full report:
Status: Active

3817 Marvaez Street, Fort Myers, FL

$299905

3 BEDROOMS

2 BATHROOMS [ 2 FULL ]

LISTING MLS ID: 220068670

Status: Active

5781 Green Blvd, Naples, FL

$259900

LISTING MLS ID: 220081097

Status: Active

2519 Bayside Street, Naples, FL

$449000

LISTING MLS ID: 221001122

Status: Active

3015 Tamiami TRL E, NAPLES, FL

$1295000

LISTING MLS ID: 220022734
See the Full Homes for Sale Fort Myers FL + Homes for Sale Naples FL & Sold Report for February 2021
Information valid as of February 22, 2021. Please contact us for the most current information and status of these properties.